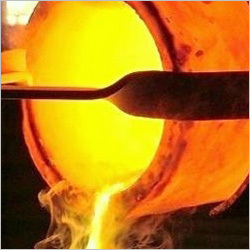 Foundry Ore
Price And Quantity
Kilograms/Kilograms,

25.00 - 35.00 INR
Product Description
Foundry Ore
Mainly it is used in foundry industries
Perlite is a type of volcanic siliceous rock, containing 2-5% combined or occuled water. When crushed up and heated under proper conditions it "pops" like popcorn, expanding to 20 or more times its original volume. It is these tiny glass sealed bubbles which account for light weight and excellent thermal insulation properties.The expansion process also creates one of perlite's most distinguishing.
characteristics: It's white colour.
Introduction :Expanded perlite is an economical insulation for high and low temperature and cryogenic applications. it is widely used because of its low thermal conductivity, cost, non-combustibility and low moisture retention.Perlite loose fill insulation provides dependable results at temperatures ranging from -273 c to 1000. it is widely used to insulateCold box or air separation units.Storage tanks containing ethylene & propylene.Liquefied natural gas (lng) in storage vessels and ships.Vessels storing anhydrous ammonia, propane, lpg and chlorine.Cryogenic storage vessels containing liquid oxygen & nitrogen.Low temperature and cryogenic
Insulation:Increased production of liquefied gases having boiling points as low as -270 c has created a demand for storage facilities capable of economically reducing evaporation losses. While the storage vary as to configuration, type of supports and accessory equipment's, the majority of vessels are of double walled construction and the annulus is filled with expanded perlite.
Atmospheric services: The thermal conductivity of expanded perlite insulation under atmospheric pressure conditions is directly related to the density, while perlite grading has only a minor effect on thermal conductivity. expanded perlite will break down if subjected to excessive handling, and this crushing of particles will result in increase in density and a higher thermal conductivity.
Evacuated services: Expanded perlite is essentially non-hygroscopic in nature, which makes it suitable for use under vacuum conditions. Here the thermal conductivity phenomenon is the reverse i.e. Higher the density lower is the thermal conductivity under vacuum conditions at low pressures.
Contact Us
2nd Floor, Savan Mall, Opp Fun Point Club, Nr. Kargil Petrol Pump Sola, S. G. Highway, Ahmedabad, Gujarat, 380060, India
Phone :+918045804934